Explore Our Town: Portsmouth
The local legends, historical happenings, and backyard secrets of Portsmouth, Rhode Island, are the focus of Our Town, a Rhode Island PBS community project. Rhode Island PBS premiered the documentary Our Town: Portsmouth on Wednesday, December 2, 2015 in a live television presentation.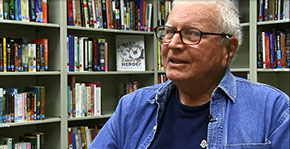 Earlier that summer, neighbors in Portsmouth became storytellers and filmmakers to capture the stories they wanted to tell for Our Town: Portsmouth. These stories have been woven together into a visual tapestry of nostalgia, humor, enterprise, history, even a surprise or two, all representing life in Portsmouth through the eyes of those who know it and love it. Portsmouth residents and friends involved in the production were in the studio to share experiences they had while they worked on the project.
Among the stories in the film are segments about coaching (the horse and carriage kind); the Portsmouth High School Patriots Marching Band; Portsmouth's history and highlights of its 375th anniversary; historic Greenvale Vineyards; the story of Julia Ward Howe, whose poem became the Battle Hymn of the Republic; Hunt Yachts; polo; meandering stone walls, and more. (See story summaries, below.)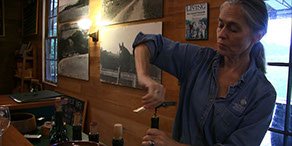 Part fund-raiser, part community builder, part historical and cultural documentary, and part "day-in-the-life" video scrapbook, Our Town: Portsmouth is the third documentary in the Our Town series. The first film, Our Town: Glocester, premiered in December 2014. The second, Our Town: North Kingstown, premiered in September 2015.
The purpose of Our Town is to share the charm and character of Rhode Island towns and villages - in particular, untold or uncelebrated stories that capture the essence of life in the town. Building community by enhancing connections and relationships between Rhode Island PBS and town residents, the stories are told by resident storytellers and videographers, who choose the stories they want to tell about their town. The role of Rhode Island PBS is to offer technical advice and then stitch together the stories into a one-hour film.
Filmed and narrated by residents and friends of the town of Portsmouth, Rhode Island (and edited together by Rhode Island PBS), Our Town: Portsmouth is part of the Rhode Island PBS Our Town community project to collect stories from each of Rhode Island's 31 towns.
Our Town: Portsmouth includes the following stories:
The History of Portsmouth explores how the town was settled and by whom and how it grew over the years.
You Can Get Here From There focuses on the transportation throughout the centuries. Portsmouth is part of Aquidneck Island so the earliest way of getting there was by boat. Learn how ferries and steamships played a role in populating this community. Bridges to and from the island, built for ease, also faced challenges due to water and weather conditions. Finally, explore who built the trolley system and why.
Julia Ward Howe, a Portsmouth resident, wrote a poem that was later set to music and became the famed Battle Hymn of the Republic.
Dive In aptly describes how Portsmouth residents began and ended the year 2013. Hundreds braved the cold temperatures to plunge into …and ring out the New Year.
St. Barnabas Festival highlights the church festival which includes games for the kids and a cooking extravaganza of homemade recipes.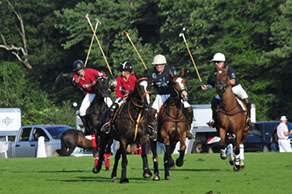 Polo in Portsmouth traces how the Newport Polo organization began in Portsmouth and how the popular event draws hundreds.
Hunt Yachts, home of vessels made for legendary performance and authentic design, is located in Portsmouth, the town with the longest coastline in Rhode Island. Hear the history of Hunt Yachts, named for the successful competitive sailor and revolutionary yacht designer Ray Hunt, and discover how long it takes to build one of these beauties.
Portsmouth's 375th highlights efforts by group of locals, who decided it was important to celebrate every day of the town's 375th year. Viewers will be entertained with snippets from each memorable event.
If These Walls Could Talk features a unique telling of the history and amazing events the walls have witnessed for close to four centuries.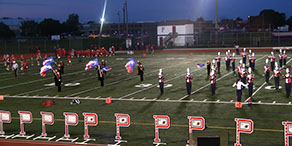 Portsmouth High School Patriots Marching Band is 200+ strong and gets more attention than the winning football team. Hear from band members why they want to belong, and relive some of their favorite memories, including performing for President Obama's inaugural event in Washington, D.C.
Local Hero Louis Escobar is the man! Everyone in Portsmouth knows Louis and praises him for what he gives back to his community, from free fireworks every July 4th to creating Rhody Fresh Milk, which helped to put Portsmouth on the map.
Behind the Scenes of Portsmouth This Week, a weekly show aired on cable access by a group of friendly fellows informing and entertaining the residents of Portsmouth.
How To Build A Chip showcases how an international company is thriving in Portsmouth. IMS builds chips that you find in almost every electronic device. The company has a big reputation but is small enough that folks who work there call it a family.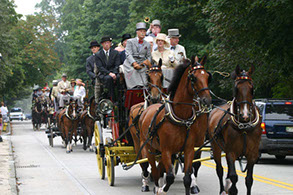 Coaching (the horse and carriage kind) became a sporting activity and social affair during the Gilded Age when horse-drawn carriages fell out of favor as a mode of transportation. Today, gorgeous carriages - or coaches as they're called - pulled by matching, highly-trained horses arrive once every three years from around the country to preen and compete. This segment captures the August 2015 festivities.
A Taste of History In Every Glass explores the history of Greenvale Vineyards and how acres of land once purchased for livestock are now growing unique grapes used to make thousands of bottles of wine annually. Also, see how the owners transformed a dilapidated stable into a gorgeous wine tasting room while abiding by the rules of the historical society.
Check This Out features the Portsmouth Free Library. Located in the middle of town, it's accessible and welcoming to all: Children gather for story hour while adults find a comfortable seat in the sun to dive into their favorite read.
Portsmouth Community Theatre debuts "Cornell and the Ghostly Witness" in this segment. The production is based on the dark but true story of Portsmouth's past.
Taste of the Town tempts viewers' senses in a story about area restaurants gathered together to show off their famous dishes for this annual event at the town library.
If you want to be an Our Town videographer and/or storyteller, or help in some way, please contact Jodi Mesolella (Our Town project director) at 401-222-3636 x209, or by e-mail ourtown @ ripbs.org.