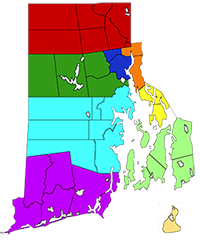 ABOUT
Who We Are
"The Authority" believes that public, education and governmental access television are all about creating community programming with few or no barriers to the producer. We will provide you with the equipment, the training, the studio space, the airtime and the support staff to help you make your own program, at no cost. The few limitations that do exist are set by state and federal law, and your own imagination and ambition. Public Access television in Rhode Island - it's television that you make.

In Rhode Island, The Authority provides public, educational and governmental access in every town in Rhode Island except New Shoreham.

This website is a guide to our operations, policies and locations, as well as descriptions of those public access programs currently in production in our service areas in the State of Rhode Island.
Service Areas

Lincoln
Pawtucket
Providence
Providence (Johnston)
Providence (Kent County)
Portsmouth
Portsmouth (Bristol County)
Westerly
Rhode Island Statewide Interconnect
Rhode Island is in the interesting technical and geographical position to broadcast programming statewide, transmitted from one site. This facility, called the Rhode Island Statewide Interconnect, first came into being as a combined effort of all the cable companies that served the state beginning in the early 1980's.

There are three Interconnect channels:
Interconnect C is assigned programming from governmental, municipal and academic producers and institutions around the state. It also carries live programming from the Rhode Island Statehouse, produced through Capitol TV.
Interconnect B carries religious programming from around Rhode Island.
Interconnect A is programmed with public access programs, and those that do not fall into the B and C designations.
The Authority has continued that commitment as it has merged with the other original cable operators. The Playback facility is located in the PBS facility located in Providence,and is staffed from 8am until 11 pm daily. There is no program playback on New Year's Day, Independence Day, Thanksgiving Day and Christmas Day. Program playback ends at 5pm on Christmas Eve and New Year's Eve.

New programs and special events are currently scheduled through the The Authority and the Cable Division of the RI Division of Public Utilities and Carriers. Steven Martin coordinates the schedule for the DPUC. Time slots are limited, though.

In the Cox Communications service areas in Rhode Island, you can watch the Interconnect on Channel 13 (Channel A), 14 (Channel B) and 15(Interconnect C).In the Verizon service areas in Rhode Island, you can watch the Interconnect on Channel 32 (Interconnect A), 33 (nterconnect B), and 34 (Interconnect C).In the Full Channel service areas in Rhode Island you can watch the Interconnect on Channel 13 (Channel A), Channel 14 (Channel B), Channel 15 (Channel C).


For more information about the Interconnect

Call or Email The Authority


Elizabeth Dias, Director, PEG Access edias@pegri.tv
(401) 222-3636 ext. 342
Call the RI DPUC

Thomas Kogut (401) 941-4500
Who can take advantage of Public, Educational and Governmental Access?


If you live, work or attend public school in Rhode Island, you are welcome in your local service area's studio.

If you're under 18, we do ask that a parent or guardian be part of your production crew; they'll be the one signing for equipment, as well as studio and airtime. When you reach the age of 18 you will be able to sign for equipment, studio and airtime on your own. If you're producing your program as a school project, your teacher will sign out equipment, studio time and air time.
Learn how to operate the portable, studio and editing equipment.
Produce your own program, as a special or as a series.
Hone your production skills by volunteering on other access programs.
Train individually, or as a group, for a regular production or a one-time event. Our staff will show you how to use the equipment, and will be there to help if needed.

The rest is up to you, your creativity, ambition and ideas.
Public Access Programming
Access Producers working in studios produce a variety of programs. Some cover events, some create formats that bring in guests on a weekly, monthly or less frequent schedule, and some develop one-time-only projects on specific topics.Public Access producers are solely responsible for their programs, and The Authority can exercise very little editorial control over it. Our only real control is to refuse to air programs that contain advertising or solicit revenue, promote a lottery, or contain obscene material, as defined by Rhode Island state law.